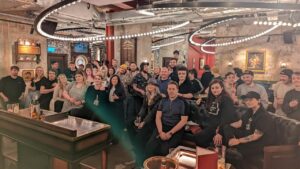 Over nearly two decades, husband and wife Mel and Phil Harrison, Co-Founders of Escapism Bars, have opened seven uniquely themed bars in Leeds city centre. These include: Tiki Hideaway, Call Lane Social, The Maven, Cuckoo, Brooklyn, Verve and Mean-Eyed Cat. Each venue has become an iconic location within Leeds' busy nightlife scene.
Despite the challenges faced by Covid-19, the cost-of-living crisis and rising energy rates, this hospitality business is planning for national growth, with several openings planned over the next few years.
Its first new opening and venture in a different city, has seen a second Mean-Eyed Cat bar arrive on Seel Street in Liverpool last month. Its original Mean-Eyed Cat venue opened back in 2004 and to this day resides on Merrion Street in Leeds.
Following its successful Liverpool opening, Escapism Bars has also set its sights on Manchester, with a venue due to be opened in the Northern Quarter in September 2023. By 2025, Escapism Bars plan to open more venues, in Birmingham, Sheffield and Nottingham.